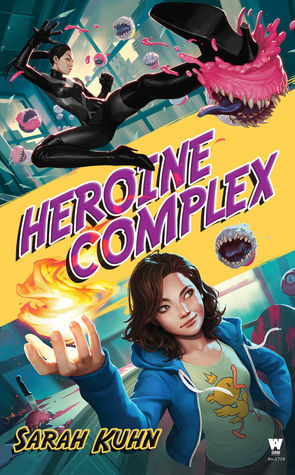 Sarah Kuhn
Daw, 2016
ISBN: 9780756410841
This is the second book I've read by Sarah Kuhn, and she certainly has a handle on the geek aesthetic in her work. In One Con Glory, Kuhn basically unpacks the life of a die hard fangirl. In Heroine Complex, she explores superheroes (heroines) and throws in a bit of demon slaying on the side. What's not to love?
Evie Tanaka isn't a sidekick, merely the personal assistant for San Francisco's only proper superhero, Aveda Jupiter. Evie and Aveda had been friends since preschool, but when a demon portal opened up eight years previously, Aveda gained a (smallish) superpower and transformed herself through strength of will and damn hard work into a kick butt superhero. Evie, on the other hand, was more than happy to ignore the unwanted gift she received that day, and after college subsumed herself in supporting Aveda's lifestyle. Until the day when she has to take Aveda's place and a threat means her own, unwanted, power is unleashed.
This book reminded me a little of Tansy Rayner Roberts' "Cookie Cutter Superhero" and "Kid Dark Against the Machine" stories, in that it goes some way to interrogating the genre of superheroes – in this case, Kuhn makes a clear case for representation of non-white characters. Both her female leads are Asian-American (of different backgrounds, gasp!) and the point is made about them being inspired by a movie they loved in their youth, which had three Asian female leads kicking butt. I don't think the importance of this can be underestimated – I love the quote from Whoopi Goldberg about seeing Nichelle Nichols on Star Trek and deciding that she could be whatever she wanted to be (and oh my, what goes around comes around – Ghostbusters' Leslie Jones gushes about Whoopie Goldberg being the reason she knew she could do comedy). In Heroine Complex, I think Kuhn both makes the same point (representation is essential) but also progresses the cause by offering protagonists who are not the generic white urban fantasy heroines we so often see.
If I have one complaint about the book, it's that the worldbuilding was a little fuzzy for me, but to be honest, it didn't really matter – the pacing was great, the story rollicked along at a good pace, and the characters were well-drawn and distinct from one another. Quite a big cast of characters but I never got lost in who they all were, although I would have liked more "screen time" for some (Rose the cop was fab!). And the sex scenes, while not prolific, were nicely steamy! I understand this is the start of a series and while it stands alone beautifully, (so don't be put off!), I will definitely pick up the next instalment and would love to see more like it!