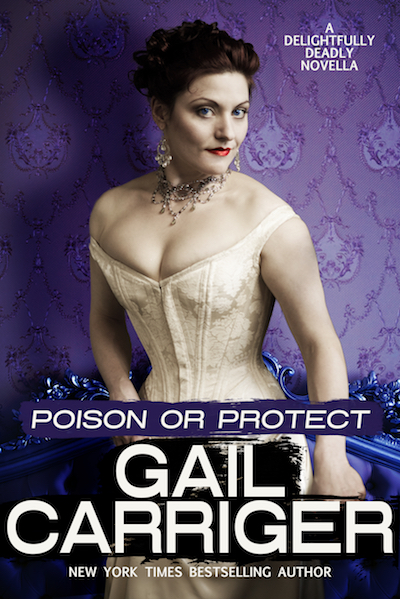 Gail Carriger
Self-published
ISBN: 978-1-944751-04-3
I have been a fan of Gail Carriger's work since the very first of her Parasol Protectorate series (Soulless) and have read each and every one of her works as they have come out. I backed the audiobook Kickstarter, I've read her first forays into self-publishing, and have evangelised her words and worlds to anyone who would listen, hopefully creating a few converts along the way. I'm not quite sure why her work has appealed to me so much, but I daresay it's a combination of glorious characters (with a particularly female-focus), great steampunk aesthetic, cracking stories and of course, fabulous frocks. I've enjoyed every single work I've read to date, and Poison or Protect, the first of Carriger's new self-published Delightfully Deadly standalone novellas, is no exception.
Poison or Protect is set between the end of the Finishing School trilogy and the beginning of the Parasol Protectorate books. Our heroine (and she certainly is that – not only is Preshea the protagonist, but this book squarely identifies as a romance, harkening back somewhat to Soulless, where it all began in feel) was a side character in the Finishing School series, and not a very pleasant one at that. Here, Lady Preshea is all grown up, four times a widow and with a reputation for murder, although naturally, it would be gauche to actually discuss such things in polite company. Employed in a dual mission at a country house party, Preshea is thrown into the company of the rather irresistible Captain Gavin Ruthven, who seems both charming and immune to the rumours that surround her. Has Preshea met her match, and can she overcome years of scandal and her deadly training to allow herself chance at something else?
This was a absolutely cracker of a story – Preshea, who wasn't at all endearing in the Finishing School books, is a mature and self-assured character whose unfolding backstory makes her both sympathetic and frightening. Gavin is absolutely adorable and everything a romance hero SHOULD be (rather than what we too often get…) – their sweet and snarky courtship was perfectly done, and a delight to read. I don't know how much crossover of characters Carriger has planned with this novella series, but I do hope we will get to see this pair again, as well as some of the secondary characters who rounded out the piece in sometimes unexpected ways.
In many ways, Poison or Protect is a perfect entry point into Carriger's world – the reader gets a quick lowdown on the supernatural elements, some nice touches of steampunkishness, and just enough established characters to draw in a new reader, but not too much of anything that a newbie will feel overwhelmed. Rather, they are gently and charmingly introduced, and, naturally, left wanting more. From here, one could happily drop backwards to Finishing School or leap forward to Parasol Protectorate, without spoiling either in any way. Having read all the other books first, I also recommend it as a lovely taster for the seasoned reader – it really is that cleverly done.
A highly engaging and vastly entertaining book – can't wait for the next one!